The European Mentoring Summit is a biennial event that aims at connecting people and projects in the mentoring sector in order to establish connections and share research, best practices, and learning-bearing experiences of mentoring programmes across Europe. Every event has a mentoring-related theme and highlights special keynote speakers and activities. As we have already announced in the previous weeks, this year's summit topic concretely aims at disrupting the traditional binary distinction between formal and informal mentoring.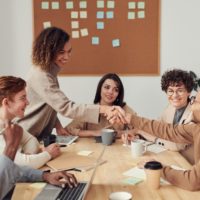 The 2022 EUROPEAN MENTORING SUMMIT is the 4th edition after the summits in Barcelona (virtual event, 2020), Berlin (2018) and Leeuwarden (2016). The 2022 summit will be hosted in Leeuwarden again, by Mentoring Europe, in collaboration with International Affairs of NHL Stenden University of Applied Sciences and represents a great opportunity to explore the topic and share knowledge on Linking Formal and Informal Mentoring in a Holistic Approach.
Safety is our high priority at the summit team. We are closely monitoring the COVID-19 situation as the event approaches and will make decisions about the programme of the event. As of now, the summit will offer the possibility of in-person as well as virtual attendance.
By connecting the world of formal and informal mentoring, we can work together for the benefit of a more comprehensive development of mentees in our contemporary and fastchanging society. Now more than ever, young people are expected to work on their interpersonal competences and soft skills to succeed also in their professional and academic life. Thus, a mentoring experience that looks and considers the overall person of mentees is necessary and beneficial. Mentees more holistically supported benefit from a more consistent social and emotional consideration of their personality development, and relevant bridges with parties and networks able to support their general development according to their specific needs and life goals.
Mentoring Europe is mainly run by students. Teamwork, research projects, event & project management as well as managing communications at all levels are some of the activities which are closely connected to the daily activities of our interns.
We are in direct collaboration with NHL Stenden University of Applied Sciences which allows us to make room for new interns who are able to join our team.
Depending on the needs of the students, we make sure that everyone connected to Mentoring Europe part of our vision of building and growing the mentoring field in Europe.
This is the organizational team behind the EMS 2022 which is made up of colleagues and students from Friese Poort, Interns at Mentoring Europe, and students from  International Affairs NHL Stenden University of Applied Science. 
During the past three months, they worked hard to make this event happen.
Names (from left to right): Juhiar Mahtab, Simona Eidukaite, Erika Irabor, Afke Bruinsma, Valeria Traverso, Szilvia Simon, Mattia Troiano, Moniek Dijkema, Aukje van der Veen. 
Below is the Leisure Team made of Students from Mentoring Europe's partner ROC Friese Poort who helped to organise the city tour part of this year's After programme: 
Joost Bos, Joost Bijma, Dorien Dijksterhuis and Benthe Dijkstra